C. Allen Productions Unlimited Inc. Membership Form
---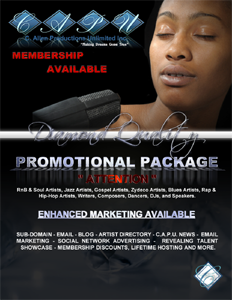 C. Allen Productions Unlimited Incorporated presents is Diamond Quality Promotional Package. This package offers membership which can enhance you business marketing. It features a Domain, Email, Blog / Website, Artist Directory, CAPU News, Email Marketing, Social Networking Advertising, and more. This offer is Life-time so your total cost will be only $35 for this package. Mouse-over the cover to you left to see what inside.

Membership allow you to recieve a life-time of web-hosting from C.A.P.U. and the discounts listed in the Diamond Quality Promotional Package that are not apart of (C.A.P.U.) like the Jamsource / Runway Fashion Source Magazine.

HOW TO PURCHASE:
First complete the form below which will tell us whether you are an Artist, Sponsor, or a Fan. This form will also allow us to set-up your domain, email and blog / website information. Make sure all of your information is accurate because some of it will be used in the email marketing as a part of the promotional package.

C. Allen Productions will be hosting your website and there is no annual fee for this service. Please allow 2-3 business days to allow all web mediums to be operational.

ONLINE PACKAGE AND PRINTING:
You will be able to download the C.A.P.U. Diamond Quality Promotional Package after a one time payment of $35.00. You will be able to print or download it to your computer.